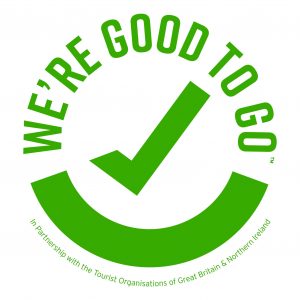 Dobbins Inn will reopen on the 3rd July 2020 and we look forward to once again welcoming guests to the hotel again. 
At Dobbins Inn, our priority as always is the health and wellbeing of all our staff, their families and our guests. We will review all advice issued by national health organisations, as well as the World Health Organisation and take all appropriate actions and precautionary measures.
These actions have included amending our hygiene and safety procedures, comprehensive staff training, implementing social distancing restrictions and installing hand sanitizing units throughout the hotel. 
As a result of these measures we are delighted to have been declared Covid 19 'Ready To Go' by the Northern Ireland Tourist Board.
Ahead of your visit please check for travel restrictions before booking and travelling. Travel may not be permitted for certain countries. Travel may not be possible from certain countries. Please be aware that Dobbins Inn falls under the legislative jurisdiction of the Northern Ireland Assembly.
To reassure you that we have thought of all aspects of your visit you can request a copy of our Covid 19 safety procedures. If you have any further questions ahead of your visit we will be happy to answer them. Please get in touch via telephone or email.